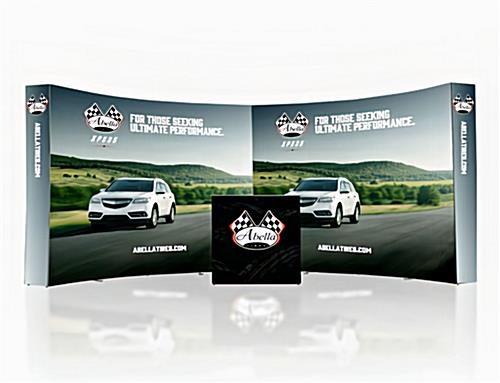 Backlit LED Lightbox Package
$4,093.99
/ Each (

USD

)
SKU:

I006840
Checking this box will add 1 hour of design time to your order. Design time over 1 hour will require additional charges. A Designer will contact you within 1 business day to start the design process.
Copied to clipboard
Please press Ctrl+C (or Cmd+C) to copy.
Backlit LED Lightbox Package
Trade show booths and event spaces are big and significant investments for your business and there's a lot of room to plan for, budget for and fill. With so much space, you need displays that's going to fill it with plenty of attendees that you want to turn into future customers and clients. Memorable trade show displays not only attract attendees to your booth, but they help them remember your business and brand's message. The Backlit LED Lightbox Package includes both a lightbox display, and LED Backlit Lightbox Podium that make attracting interested attendees at shows and getting them to remember your business no problem. While a 10' or 20' lightbox display sounds big and intimidating, it's just big and impressive - not intimidating at all. It has a pop-up style frame that sets up without the need for any tools. It comes with LED light panels that hang inside of the frame with hooks and a custom printed SEG banner that installs into the frame quickly by just tucking it in. SEG banners are printed using a dye-sublimation printer on a backlit fabric material to combine with the LED lights to make graphics jump out at anyone who walks near your booth. The Lightbox Podium also has an easy to set up frame, an acrylic countertop for speaking and presentation space, and an SEG banner with dye-sub graphics. The Lightbox Podium also has its own LED light panels to enhance its graphics. Both lightboxes in one package saves you money and time planning a trade show booth and creates a presentation for your business that paints it in a professional light and is impossible to miss. Both set up easy and leave you to focus on other important parts of your booth and presentation like engaging with attendees and future customers. Each display includes carrying tote bags to store the displays and hardware and another for LED lights.
Lightbox display package with 10' or 20' Straight or Curved Backlit LED Lightbox and Lightbox Podium
One time and money saving trade show package with two lightbox displays
Comes with carrying tote bags to store Lightbox displays and LED lights
Simple to set up displays with no tools need
Portable Lightbox display package with everything you need for a 10' or 20' trade show or event booth
LED Lightbox display measures 10' or 20'W x 7'H
LED Lightbox Podium measures 39"W x 40.5"H x 16"D
SEG banners with dye-sub graphics on backlit fabric are impressive and easy to install
LED lights make dye-sub graphics highly visible and attractive
Utilize TRT Banners' affordable graphic design services to perfect lightbox graphics
Custom printed banner graphics replacements available for both Lightbox display and Podium
Hardware replacement option available separately
Filename
: backlitpodium_ec_template.pdf (846.16 KB)
Filename
: backlitpodium_frontandback_template.pdf (870.19 KB)
Filename
: spec_straightbacklit-10ft_trt_1.pdf (231.32 KB)
Filename
: straightbacklit_template_1.pdf (132.81 KB)
Filename
: straightbacklit_template-endcap.pdf (114.98 KB)