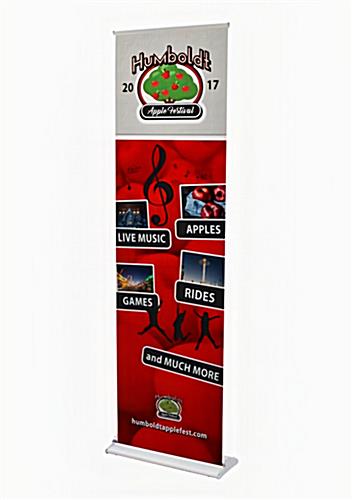 Banner Replacements - Silverstep Retractable Banner Stand
$85.00
(

USD

)
IN STOCK
Ships in 2 business days
Checking this box will add 1 hour of design time to your order. Design time over 1 hour will require additional charges. A Designer will contact you within 1 business day to start the design process.
Copied to clipboard
Please press Ctrl+C (or Cmd+C) to copy.
Banner Replacements - Silverstep Retractable Banner Stand
Replacement banners for your Silverstep Retractable Banner Stand are available in all six size options on both vinyl and dye sub fabric banner material options. Replacement banners for the Silverstep are the easiest, most affordable and effective way to update the graphics on your banner and keep your marketing message fresh without having to dig deep into your marketing budget. Replacement banners are custom printed in full color and dye sub fabric banners are printed using a dye sublimation printing process. A heat press is used to transfer the ink into the fabric to make images and colors more clear and vivid. Replacement banners attach to the base of your Silverstep with hook and loop strips. The leader attached to the base has sewn on hook and loop strips and the replacement banner comes with adhesive hook and loop strips that press together to the leader to install your new Silverstep banner. TRT Banners also offers a 48-hour turnaround after customer artwork proof approval so you have your new banner in time for the next big trade show. Graphic design services are also available at an affordable, prorated cost to help make sure your new Silverstep banner gets the attention it deserves!
Features and Benefits:
Budget saving way to update graphics on a brand new Silverstep banner
Easy, one person installation of new banner
Adhesive hook and loop banner attaches to sewn on hook and loop strip on leader
Available in all sizes (24" x 83", 24" x 96, 36" x 83", 36" x 96" and 48" x 83 or 48" x 96")
Replacement banners available in vinyl or dye sub fabric material available
Dye sub fabric banners printed using dye sublimation printing process
48 hour turnaround after customer proof approval
Affordable prorated graphic design services available
You don't have to burn your marketing budget to update your graphics or message on a banner display that you already own. Replacement banners for your Silverstep are affordable and come in all six sizes TRT Banners offers and include vinyl and dye sub fabric options as well. The Silverstep is constructed to make sure that changing out your banners is as easy as setting up the display itself. Just attach the new banner by the adhesive hook and loop strips to the sewn on the leader. TRT Banners also offers affordable graphic design services that costs just $52/hour and is billed in 15 minute increments so we can help your Silverstep replacement banner look great and you save your marketing dollars! Check out TRT Banners other affordable trade show displays and trade show booth accessories.
Filename
: 24x104_silverstepretractable_trt.pdf (813.92 KB)
Filename
: 24x91_silverstepretractable_trt.pdf (809.25 KB)
Filename
: 24x96-silverstepretractable-template.pdf (840.79 KB)
Filename
: 36x104_silverstepretractable_trt.pdf (814.13 KB)
Filename
: 36x83-silverstepretractable-template.pdf (850.08 KB)
Filename
: 36x91_silverstepretractable_trt.pdf (815.16 KB)
Filename
: 48x104_silverstepretractable_trt.pdf (813.75 KB)
Filename
: 48x83-silverstepretractable-template.pdf (851.11 KB)
Filename
: 48x91_silverstepretractable_trt.pdf (814.81 KB)