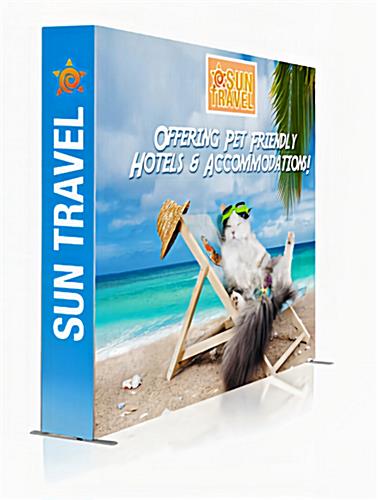 Single or double-sided SEG graphics replacement options available
LED lights in the backlit lightbox display make dye-sub graphics on the backlit fabric stand out
Backlit material and dye-sub graphics combine with LED lights to maximize reach of your display
Allows you to showcase new graphics and new messages for each event your use your display
Backlit LED Lightbox - Replacement Banner
$906.99
/ Each (

USD

)
SKU:

I003104
Checking this box will add 1 hour of design time to your order. Design time over 1 hour will require additional charges. A Designer will contact you within 1 business day to start the design process.
Copied to clipboard
Please press Ctrl+C (or Cmd+C) to copy.
Backlit LED Lightbox - Replacement Banner
You'll love the impact the backlit LED lightbox has on your business when you use it at trade shows and other events. Get the most value for your investment in displays that make a different to your business with the graphics replacement option. Save money instead of replacing the whole backlit display when you need new graphics for your next even by purchasing single-sided (one banner) or double-sided (two banners) custom printed replacement graphics. Your new banners with dye-sub graphics on the easy to install SEG backlit fabric material can be used with the hardware for your backlit LED lightbox. You can tailor your message for every event and show with dye-sub graphics that stand out with the LED lights from your display.
Single or double-sided SEG graphics replacement options available
LED lights in the backlit lightbox display make dye-sub graphics on the backlit fabric stand out
Backlit material and dye-sub graphics combine with LED lights to maximize reach of your display
Allows you to showcase new graphics and new messages for each event your use your display
Filename
: curvedbacklit_back-outside_template.pdf (858.46 KB)
Filename
: curvedbacklit_ec_template.pdf (837.27 KB)
Filename
: curvedbacklit_front-inside_template.pdf (858.30 KB)
Filename
: straightbacklit_template_1.pdf (132.81 KB)
Filename
: straightbacklit_template-endcap.pdf (114.98 KB)
Filename
: trt_10ft_backlit_led_lightbox.pdf (222.33 KB)
Filename
: trt_20ft_backlit_led_lightbox.pdf (236.74 KB)
Filename
: trt_backlit_led_lightbox_end_cap.pdf (183.53 KB)
Filename
: trt_curved_backlit_led_lightbox.pdf (223.56 KB)